Overeaters Anonymous offers a program of recovery from compulsive eating using the Twelve Steps and Twelve Traditions of OA. Worldwide meetings and other tools provide a fellowship of experience, strength and hope where members respect one another's anonymity. OA charges no dues or fees; it is self-supporting through member contributions. OA is not affiliated with any public or private organization, political movement, ideology or religious doctrine; we take no position on outside issues. Our primary purpose is to abstain from compulsive overeating and to carry this message of recovery to those who still suffer.
Region III of Overeaters Anonymous seeks to aid those with the problem of compulsive eating through the Twelve Steps of OA, and to serve and represent the OA groups in the states of Arizona, Colorado, New Mexico, Nevada, Oklahoma, Texas and Utah.
---
---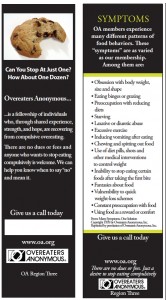 Can You Stop At Just One?

How About One Dozen?

How could you use a bookmark explaining what Overeaters Anonymous is (a fellowship of individuals who, through shared experience, strength, and hope, are recovering from compulsive overeating…) then on the back lists symptoms some of us have (Obsession with body weight, size and shape; Eating binges or grazing, Preoccupation with reducing diets, Starving, Laxative or diuretic abuse…)

Region 3 has the permission of the OA World Service Office to use the Cookie Bookmark. You may choose to download the files linked below and print your own. Intergroups and Groups who use it must enter their contact information on the bookmark or affix an adhesive strip with the information. Nothing else can be changed.

The files to download are for the front: Cookie_Bookmark_front and the back Cookie_Bookmark_back.

If you have questions, please contact the Public Information/Professional Outreach Committee Chair at  PIPO@OARegion3.org.


Having "hit bottom" in my disease – that is, binging on my "drug of choice" (chocolate) several times a day, grazing on everything else in sight when that was not available, gaining weight and not able to get on another diet, approaching my old high weight and knowing I would not stop there – I finally surrendered and came to OA.

Doing what was suggested – I attended meetings regularly, got a sponsor, worked the Steps, got into service – leaning into my recovery with all of the willingness I could muster.

A speaker at our most recent Region III Convention in Dallas addressed some questions given to her by the Program Committee for the Convention in her speech.  I would like to share them with you here, because they affected me so profoundly.  I find that I am constantly searching out, finding, and utilizing new tools in my quest for permanent recovery – one day at a time.  So, I am intrigued by the "traffic light approach."  I believe it will aid my journaling efforts for months if not years to come.  Here are the questions:
Red means STOP:
What foods did you have to stop eating?
What behaviors did you have to stop in order to move forward in your recovery?
What character defects did you have to stop living?
What friends did you have to stop hanging around with because they just weren't healthy for you?
What lies did you have to stop telling yourself?
When do you get HALT (hungry, angry, lonely, tired) and what do you do?
Yellow means CAUTION:
What foods are part OKAY, part not?
Do they confuse you?
Do you know you are close to "slipping and sliding"* with them?  *(at www.oa.org under Members/Groups, then Twelfth Step Within, scroll down to find a PDF file entitled "Been Slipping and Sliding – A Reading and Writing Tool" for more inspiration and support)
Have you had to shift more foods and behaviors to the NOT OKAY list?
What behaviors are like that (slippy/slidy) for you?
What events – family get-togethers, work events, life challenges – can trigger you?
How have you recovered/bounced back from them in the past and what actions do you take to avoid them now?
Green means GO:
How has program enriched your life?
How have the Steps helped you live a fuller life?
What role does Service play?
How have the Tools, Traditions, and Slogans helped you?
Do you get a Green Light every day?
How have your relationships been improved?
How have you become more effective in the world?
What an awesome set of questions to help us all get and stay focused on the road ahead in our recovery!  Safe driving everyone!  And – keep coming back.

Neva S. – Tucson, AZ (with thanks to Neva L. from Dallas
and Judy K. from Jacksonville, FL for creating much
of the material and inspiring this article)
 Read older articles here.
---
---
Looking for a Meeting…
…in Region 3 or anywhere else in the world. Click here for an OA meeting face-to-face, online or on the phone!