Overeaters Anonymous offers a program of recovery from compulsive eating using the Twelve Steps and Twelve Traditions of OA. Worldwide meetings and other tools provide a fellowship of experience, strength and hope where members respect one another's anonymity. OA charges no dues or fees; it is self-supporting through member contributions. OA is not affiliated with any public or private organization, political movement, ideology or religious doctrine; we take no position on outside issues. Our primary purpose is to abstain from compulsive overeating and to carry this message of recovery to those who still suffer.
Region III of Overeaters Anonymous seeks to aid those with the problem of compulsive eating through the Twelve Steps of OA, and to serve and represent the OA groups in the states of Arizona, Colorado, New Mexico, Nevada, Oklahoma, Texas and Utah.
---
---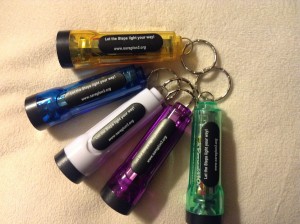 This Flashlight / Keyring , including AA battery will be offered for the first time in Dallas to  raise funds for Region III.

A bargain at $3 each or 6 for $15…….

Cash and carry  at the Assembly/Convention

Or Place an order and we will ship upon receipt of payment.

Five colors to choose from! Talk with your Intergroup about the quantity to bring back home and save us the shipping expense.

We thank you for your support of Region III and see you soon in Dallas!

VIRTUAL MEETINGS SURVEY 

   Your input is needed to set goals for 2014, to build a team to strengthen virtual meetings, and to help carry the message. This is an anonymous survey. The more people who participate, the greater the value of the information gained.  

Surveys must be completed by February 14, 2014 in order to be properly processed.

  Take the survey on line at: 

 https://www.surveymonkey.com/s/VSSURVEY2014
 Read older articles here.
---
---
Looking for a Meeting…
…in Region 3 or anywhere else in the world. Click here for an OA meeting face-to-face, online or on the phone!