Overeaters Anonymous offers a program of recovery from compulsive eating using the Twelve Steps and Twelve Traditions of OA. Worldwide meetings and other tools provide a fellowship of experience, strength and hope where members respect one another's anonymity. OA charges no dues or fees; it is self-supporting through member contributions. OA is not affiliated with any public or private organization, political movement, ideology or religious doctrine; we take no position on outside issues. Our primary purpose is to abstain from compulsive overeating and to carry this message of recovery to those who still suffer.
Region III of Overeaters Anonymous seeks to aid those with the problem of compulsive eating through the Twelve Steps of OA, and to serve and represent the OA groups in the states of Arizona, Colorado, New Mexico, Nevada, Oklahoma, Texas and Utah.
---
---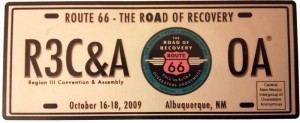 Make sure you look – and listen? – to the new audio tapes added to the

audio files

page. These are from the Fall 2009 Convention and Assembly in Albuquerque. They join those from the 2011 Region III cruise. Soon we'll have the speakers from the Fall 2012 Convention and Assembly in Las Vegas. If you have audio files from previous Region III events, please email r3commsec@oaregion3.org about them. We cannot use them if someone else holds the copyright, but we're willing to contact the taper if you can tell us who that was.

Serenity prayer in Gaelic and English, VOR and For Today read.

Proposal Item 2 – Sets requirements for regional trustees including current maintenance of healthy body weight and residence in region at least six months of year. Vote: passed.

Proposal Item 1 – amends language on the twelve concepts adding, "OA groups have delegated other duties to their local service bodies and regions; thus, each level of our service structure acts on behalf of the members and groups at its level." Makes the concepts applicable to the service body officers and committees on all levels. Question of privilege: turn off all electronic devices. Con: The concepts are supposed to be for World Service, not other groups. Pro: Six are directly related to World Service but the other six should be applied to all levels. We're asked to read the concepts at IG meetings. Con:

Amendment ruled out of order. Second amendment, make it say IG bylaws have to be "not in conflict" with WSO rather than "in compliance." Con: it's hard for people at IG level to see the difference. Pro: this makes the concepts something people can relate to in a more easy manner. Con: It is the illusion of not being forced to comply. Parliamentary inquiry: can the pros can cons speak to the original proposal, not just the amendment? No, speaking only to the amendment. Vote on the amendment: passed. Pro: Reading from the OA Bylaws: "These points shall define an OA group." Con: These are things we read and apply at our core. Pro: We're not tinkering with the concepts at all. Con: We're making them rather long. Request for information: under cost, why would it change the cost? The pamphlet would have to be changed if this is passed. Request for information: How does the amendment to steps and traditions differ from concepts and why? Steps and Traditions are held to a higher standard than 2/3 at Conference. Steps and Traditions have to be sent to groups and ratified by ¾ of the total number of worldwide service bodies. Question of privilege, request for paper ballot. Motion seconded. Request for information. What was the historical intent of the creation of the concepts? Not available here. Request for information: Banners with concepts would no longer be valid and need to be replaced? Not many OA literature. Request for information: Distinguish in 7(b) guidelines and statement of purpose. Answer: there is nothing that requires OA service bodies to have guidelines. If all you have is a statement of purpose, which can be very minimal, you don't have to change in these situations. Serenity prayer. Request for information: Is proposal merely to clarify something already passed last year? It would be consistent with that. Request for information: would we not be able to attend Conference if wrong concepts displayed? Who's going to know? Vote on whether written ballot: too closer to call whether 2/3. Standing count. Did not pass. Vote: did not pass.
(read more…)
 Read older articles here.
---
---
Recovery Rocks!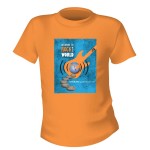 Rock Your Recovery with this incredibly cool OA Shirt for
the 2013 World Service Convention in Cleveland with
this "Recovery to Rock Our World" link.
---
---
Looking for a Meeting…
…in Region 3 or anywhere else in the world. Click here for an OA meeting face-to-face, online or on the phone!